DECEMBER 4, 2017
http://www.cafleurebon.com/laubahn-perfumes-naughty-garden-ralf-schwieger-2017-flowers-in-a-space-garden-draw/
If you've never heard  of  Laubahn Perfumes or their inaugural release Naughty Garden, composed by legendary perfumer and multi–award winning Ralf Schwieger of MANE, fear not. All will be revealed. One of the great joys of the rabid perfumista is the discovery of a heretofore unknown perfume line. Ever since Julius Caesar (in my history re-writing imagination) entered the Roman Senate thousands of years ago, sniffed the air and asked "Et Tu Brute?" perfume lovers have delighted in ferreting out the new, the undiscovered, the never-sniffed. Laubahn Perfumes of Lake Geneva, Wisconsin is the brainchild of  Ms. Sassy Ayr (née Stacey Bresnahan) the author of the book "Life on a Star" from which Naughty Garden takes its inspiration. Engaging Ralf Schwieger of Mane as perfumer is a bold, engaging and ultimately winning move.
 Ralf Schwieger has created many fragrances, too numerous to list and his body of work includes Eau des Merveilles (with Nathalie Feisthauer) for Hermes, Womanity for Mugler, Afternoon Of A Faun and Fiel de Dieu for Etat Libre d'Orange, Orange Sanguine and Vanilla Insensee (and others for Atelier Cologne), Christopher Street for Charenton Macerations, Aedes de Venustas Iris Nazrena and Lipstick Rose for Frederic Malle, the quintessential violet/powder/rose. His compositions were and are ahead of their time, some might have been overlooked upon release, but ultimately they are recognized as extraordinary "reference" perfumes. So it should come as no surprise that Naughty Garden for Laubahn Perfumes is a "noteworthy" creation. Centered around an Elderflower accord, Naughty Garden (albeit not naughty at all) is a classic floral in the vein of Olivia Giacobetti's En Passant but with an added "something-something" that is unique to Ralf's signature.
Having never been asked to create a fragrance inspired by a story, I was all ears (and nose.) This is about flowers in a space garden, high up in the sky but bound to earth. Notes of elderflowers play with Indian sandalwood in weightless territory. The green aspects enhanced by galbanum round off the natural floralcy and contrast nicely with the woody and slightly mossy background." –Ralf Schwieger for Laubahn Perfumes
Elderflower in perfume is not widely used; you may be more familiar with elderflower in wine and spirits. I grew up listening to stories about my Ukrainian Grandmother's famous homemade elderflower liquor, which my mother described as "sparkling floral nectar". It's a shame that you don't find elderflower in perfume more often, as its ethereal herbacious-honeysuckle scent is captivating. In Naughty Garden, elderflower is represented in all its complex beauty.
Opening with a zing of bergamot tempered with a slightly bitter galbanum, Naughty Garden wastes no time in introducing elderflower as the star of the show; a true Diva of florals. When combined with deft lashings of jasmine and ylang, Naughty Garden becomes one of the best white florals I have ever smelled in quite some time. The sea salt note keeps the composition grounded, but the sense of space and airiness of this perfume is what separates it from most white florals.
The individual notes never feel intrusive, rather they are seamlessly blended to create an unforgettable olfactory experience. The musk has that slight laundry detergent vibe, but the smooth sandalwood rounds out any harsh edges and restrains the musk for being overpowering, and that's a very good thing indeed. Naughty Garden is a perfume that I am thrilled to have in my collection.
Notes: Bergamot, Galbanum and Ylang-Ylang, Elderflower, Sea Salt, Jasmine, Rose, Sandalwood and Musk.
Disclosure: Thank you SO much to Laubahn Perfumes for supplying my sample. The opinions are my own.
 Please Note: Naughty Garden is an Eau de Parfum and is a limited edition of only 1000 pieces, and  available thru the Laubahn Perfumes website: www.lifeonastar.com
-Robert Herrmann, Senior Editor and contributions from Michelyn Camen
–Art Direction: Michelyn Camen, Editor-in-Chief
Meet Ralf Schweiger
Thursday, December 7th, 2017
5:00pm – 7:30pm 
Perfumarie 155 Lafayette Street
.............................................................................................. 
Bella New York
November 15, 2017
by Janene Mascarella
It's holiday season and high-time to get twinkling! Life on a Star is a fun and innovative way to experience a fine fragrance.  The fictional, scented story book gives readers and fragrance lovers alike a new way to experience Laubahn Perfumes Lost in the Moment fine fragrance via a scented page that is also sold separately as a perfume.


The vibrant aroma evokes whispers of wildflowers, fruit trees, driftwood and the warmth of the sun felt on a white sandy beach. Talk about getting swept away in a good story!

This fictional tale takes you on a delightfully scented journey with visual descriptions of different landscapes that will launch as corresponding perfumes in months following including the second perfume launch, Naughty Garden, created by Master Perfumer Ralf Schwieger who has created fragrances for Frederic Malle, Hermès and Yves Saint Laurent.

Each sold separately at LifeonaStar.com

Life on a Star Book ($17.95)

Lost in the Moment Perfume ($35, 7.5ml)

Naughty Garden Fragrance ($175.00; 100ml)

...................................................................................................

 
This Book Is 2017's Answer To Scratch & Sniff Perfume
It comes from Laubahn Perfumes,
a new fragrance company
looking to bottle certain locations, landscapes, and experiences with scent. To do so, brand founder Stacey Bresnahan wrote the book "Life on a Star" — a novel that reads like
The
Hunger Games
meeting
Alice in Wonderland
. But here's what makes it so special: Inside the book is a scratch and sniff page intended to transport the reader to the places dictated in the story. In essence, it takes the power of story-telling to a whole new level with the help of the the brand's newest fragrances.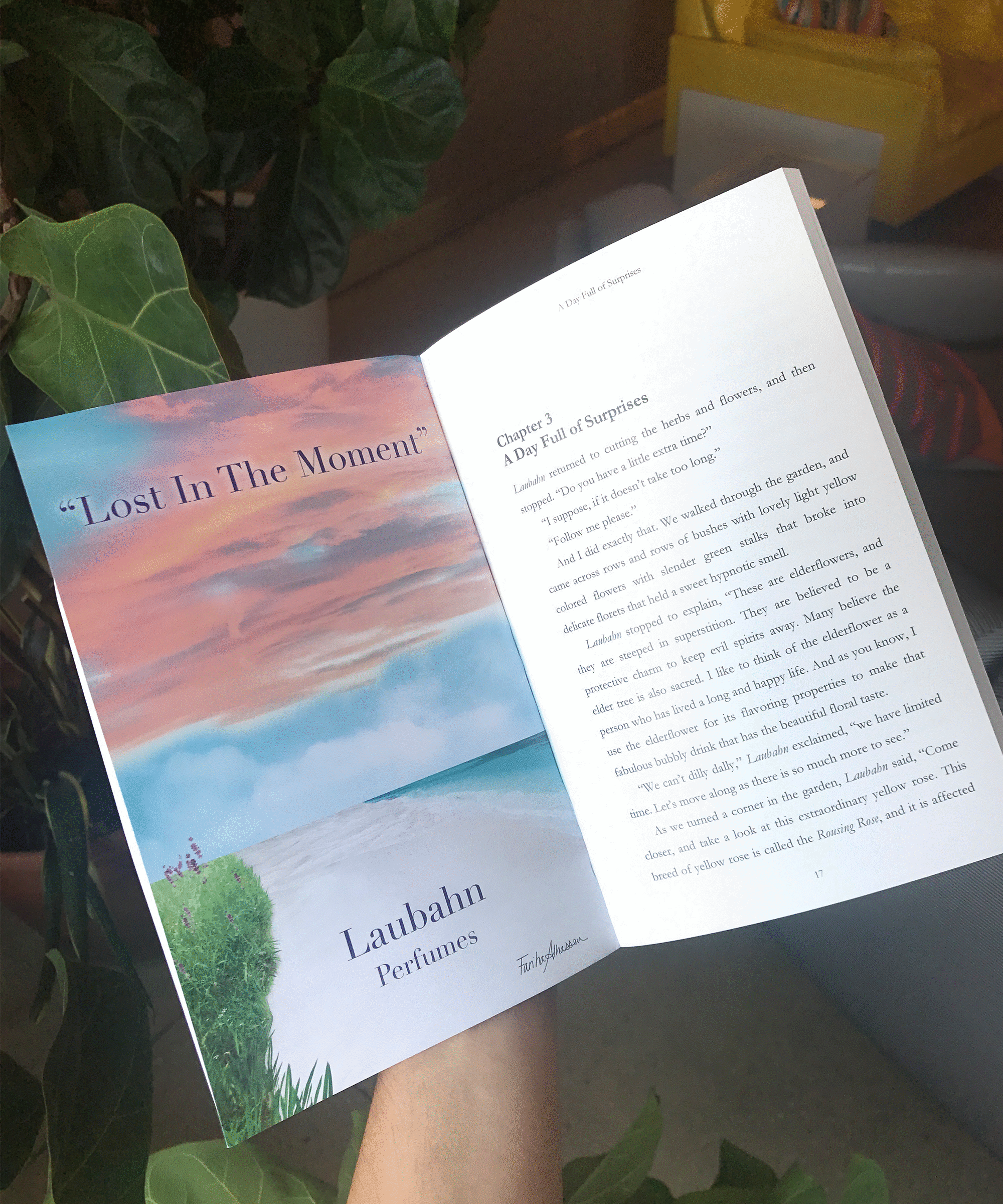 But it gets even better — and a little more complicated. Throughout the book, the reader will find italicized names of fictional places. Those locations are "maps" to different fragrances available for purchase on the brand's site (Naughty Garden and Lost in a Moment). Soon enough, Bresnahan says, there will be more.
Fans will be able to collect the perfumes as each one launches, filling out the written narrative with the corresponding scents that only further take the reader on an innovative ride through their imagination.